Social enterprise Hedona Llc…
It was founded in 2013, as part of the project "Chocolateria Chris" – Krizevci chocolateria, by the enthusiastic Association of Persons with Disabilities Krizevci, headed by Mr. Petar Gataric.
Open employment is the basis of social integration and mental health, well-being and self-realization of every person. Also, the possibility of free choice and acceptance of employment that is adequately paid and that has satisfactory working conditions, enables a person with a disability to contribute to society and earn a living. (Article 27 of the Charter of the United Nations on the Rights of Persons with Disabilities).
In December 2018, the Ministry of Labor and Pension System issued a decision establishing the Hedona integrative workshop, the only one in which a person with a disability participates in the complete production process. This means that a person with a disability can do everything, not just assisting jobs as in other integrative workshops, respecting the high technological, technical and hygienic conditions associated with this activity.
An integrative workshop is an institution or company established for the purpose of employing persons with disabilities whose findings and opinion of the center have determined that they cannot be employed in the open labor market.
Hedona, the Greek goddess of pleasure, enjoyment and delight
Hedona started their sweet story in 60 square meters and with 6 employees, 4 of whom were employees with disabilities. Ideas change the world, in our case, they make it sweeter and more tolerant. We emphasize the development potentials of our employees, and the profit that the social enterprise makes, we reinvest precisely through their education, development and growth.
Today, Hedona Chocolateria has 18 employees, 9 of whom are people with disabilities.
Based on the announced and conducted public tender for the allocation of special funds for the development of new technologies and business processes in order to hire and maintain employment in protective workshops (ZOSI https://www.zosi.hr/), Hedona Llc. funds were allocated in the total amount of co-financing of HRK 3,250,000.00 for the construction and expansion of the space of the integrative workshop and installation of equipment and new technologies, in order to employ and maintain the employment of persons with disabilities.
With its unique approach to business models and the concept of company development with its employees, Hedona Llc. stands out on the market and is rightly called HUMAN and a social enterprise.
CEB Award for Social Cohesion 2020 goes to Hedona Llc.
"The success of this year's competition shows us that the CEB Award for Social Cohesion strongly resonates with the need to recognise and support social achievements. Today, as we celebrate Hedona Llc. outstanding contribution, we are proud to put social cohesion on the map of Europe."
Love, kindness and chocolate are the foundations of our company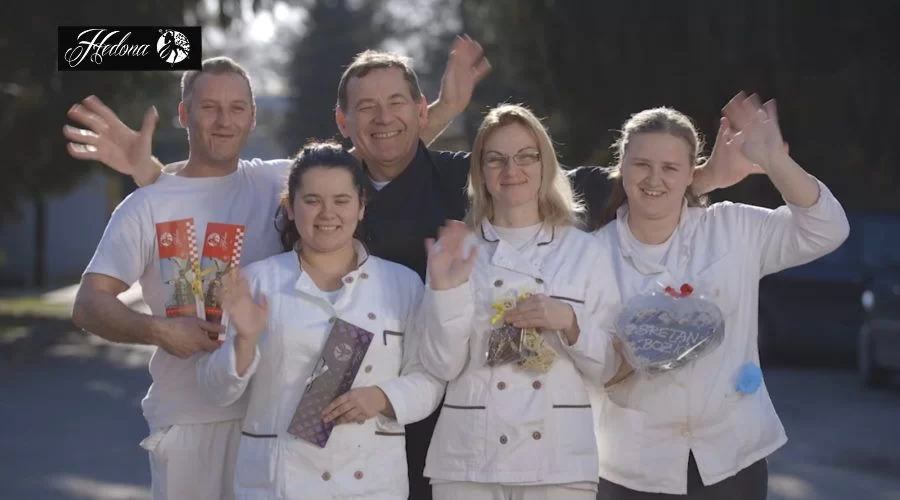 Our mission
Hedona Llc. is the answer to the challenge of difficult employment of people with disabilities. Open employment is the basis of social integration, mental health, well-being and self-realization of every person. The quality product and the authenticity of the company are the result of the idea, which became unique in our market with the adoption of our mission.
Our vision
Our vision is to achieve our mission in the long turn! Positive business trend, with the development, growth and recognition of our products from a social, corporate and perceptual point of view, with continuous employment and education of employees. Hedona's business model, is customer-oriented, B2C and business-oriented, B2B model.
Core business
The main activity of Hedona, a social enterprise and integrative workshop, is the production of chocolate and chocolate pralines. We perform our work according to the highest standards and supervision with an established food safety system based on HACCP principles (Hazard Analysis and Critical Control Point).
Sweet and healty goes together, as we proved by launching our new products, 100 g sugar-free Corina Gold chocolate, enriched with 300 mg of polyphenols obtained from a grape seeds, at least 90 percent pure polyphenols and CardioPlus capsules, dietary supplements, which contain 300 mg of polyphenols, also obtained from a grape seeds, of a purity of at least 90 per cent.
By the end of 2017, Hedona has expanded its business and opened a Choco bar, to the sweet joy and enjoyment of its employees and the citizens of Krizevci.
Hedona's handmade chocolate products can be found in the Sales Kiosk next to the Choco bar, Hedona's chocolate house in the center of Krizevci and other points of sale throughout Croatia.
While you enjoy your fine coffe, hot chocolate and other hot and cold beverages, you can also see and buy Hedona's handmade chocolate products in the Sales Kiosk next to the Choco bar.
Hedona's handmade craft and artisan chocolate products can be bought in Hedona's chocolate house in the center of Krizevci and (https://hedona.hr/prodajna-mjesta/) throughout Croatia, as well as online (https://hedona.hr/en/shop/) .
Hedona is an example of good practice, which promotes the social inclusion of people with disabilities through their integration into the labor market. 
Petar Gataric, President of the Association of Persons with Disabilities Krizevci